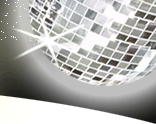 The Starlite Ballroom rental fee is $300.00 to $400.00 . We can accommodate 250 for a wedding reception or 300 for a dance or meeting.
PARTY LOFT rental is $100 with our catering and $295.00 where you provide your own food. Party loft accommodates up to 96 guests.
DINING ROOM rental is $100.00 with accommodations up to 48 people.
All rentals include normal set-up, clean-up, bartender(s), and waitresses where needed. Staff requirement and scheduling will be determined by us after we discuss details of your event with you. The Ballroom is air conditioned when necessary. All door opening and serving times are prompt. We appreciate your co-operation in maintaining the times you set.
In the Ballroom we have round tables for your guests and straight tables for the head table. The round tables seat 6 per table. In the Ballroom red vinyl table covers are included in the rental fee. All rentals may run for 6 hours. Rentals are 6 hours from door opening time to closing time.
Signed contracts along with the proper deposit will initiate a booking.
A FOUNTAIN for cocktails is available for your use at no extra charge with a minimum 3 gallon order.
We will need your menu and bar selections no later than 30 days prior to your function. Total payment is required 15 days prior to your event for anything ordered. Anything added the day of the affair will be billed to the person signing the contract, and that amount will be due within 10 days.
Inform us whether the bar shall remain open or closed during dinner.
The Club will not be responsible for any lost or stolen articles. The renting party will be responsible for any breakage or damages.
Payment of the bill will be the responsibility of the person signing the contract. We will also ask you for a guarantor. If for any reason the person(s) signing the contract can not fulfill their obligation, it will become the responsibility of the guarantor.